Speed Dating Gift Certificates
24.11. 2013 - Speed Dating Tip
Looking for some gift ideas for Christmas or birthday for your family or friends? Well, if they are single, you can give them gift certificates for speed dating. What better gift to give to your single friends than the chance to meet the special someone?!? :) Gift certificate has the same design as our website and you can print it yourself.
How Can I order Gift Voucher for Speed Dating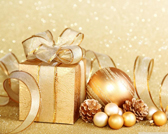 Before you order gift voucher for speed dating, check the list of speed dating events and the prices for the age categories, to which the recepient falls. Depending on that choose the best price. You can receive the gift voucher for speed dating even before you transfer the payment for it. In the case that you are ordering the gift certificate last minute, contact us rather also by phone. We do not recommend getting speed dating gift vouchers for older people. Those speed dating events happen only rarely and the gift voucher may be unused.
Speed dating gift vouchers can be ordered here
Speed Dating Gift Certificate Conditions
Speed dating gift certificate is valid 1 year and can be used for any one speed dating event of your choice. If it is used for an event of higher price, the customer needs to cover the price difference. If a speed dating event is in a lower price range, the price difference is not refunded. The speed dating voucher cannot be exchanged for monetary value. Reservation for the speed dating event has to be made no later than the expiration date.